Our second favorite place! Buenos Aires Verde is famous in town for the special dishes they serve. Sit outside or inside with a view over the kitchen. It's usually very busy so if you want to enjoy a meal at prime-time, make sure you reserve a table. Otherwise you might have to wait a little.
They serve 100% vegetarian and several vegan options varying from rice dishes with tofu, green salads, pasta, pizza, and several RAW food options too. They use natural, organic products many different juices, home made lemonades –
The staff is friendly and 'll prepare you a nice fresh juice or smoothie to accompany your plate. Smoothies (also vegan options)  can be enriched with Polen, spirulina, or maca,
They have a little shop with wine, books, scin care products (Weleda) and beautiful tortas to take away, like a raw chocolate brownie!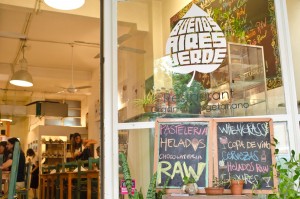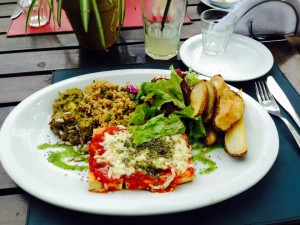 We have gone several times and have enjoyed our food every time. Try one of the salads if you are in green mood, or a lentil hamburger with papas or couscous salad if you are more of the hungry type :-). We loved it!
Adress: Gorriti 5657 | Vidal 2226
Open: Mo – Sa 09h – 0.30h
Web: www.bsasverde.com/
Phone: +5411 4775 9594 | +5411 4787 1375
Price: $$