I have to admit, a bit weird to put this cajun-style-restaurant on this site, they serve just one or two veggie / vegan meals, all the other servings are chicken, chicken and more (fried) chicken. But before you close this page, let me explain why Nola deserves a place here.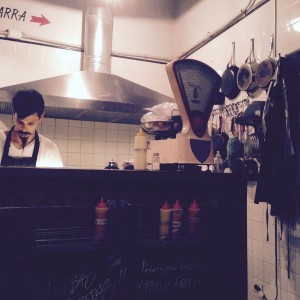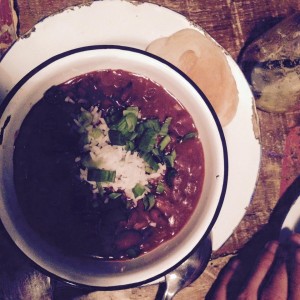 First of all, Nola is a great place with a lovely atmosphere, guests and staff. These days it's always full with people and the whole sidewalk is used as terrace. Second, they serve the best pints in Buenos Aires, from the Broëders Brewery. My all time favorite is the IPA but taste them all before you decide what your favorite beer is. And as last, order a plate of red beans & rice with that. Served in old white bowls you'll feel like being back in the ol' times, enjoying your lunch in Louisiana while zipping a cold beer.
So even though it's not really a super vegetarian friendly place, I love to come here. Not for a romantic dinner but for a good plate of food accompanied with the best beer in town! And don't forget: happy hour every day between 17h and 20h.
Adress: Goritt 4389
Open: Mo – Fr 17h – 00h | Sa – Su 13h – 24h
Web: www.nolabuenosaires.com/
Phone: +54 111563501704
Price: $$