On accident we passed by this very nice restaurant in barrio Villa Crespo and decided to have dinner here. Surprised by the variety of dishes they serve, from pizza and pasta to stew and more traditional Argentine dishes, we choose for two plates to share. It was a pizza (integral) and some huge ravioli's with avocado. Delicious!
It happens often that vegetarian restaurants have this cozy feeling, where the owner walks around, laughing with everyone and it's all a bit…well, you know, cozy; not so professional. It's something I do actually like about vegetarian restaurants. But in Almacén Purista everything feels more like a 'normal' restaurant. The service is of a very good standard and our waitress seems to know a lot about the food and the wine. She serves us well and the timing is right.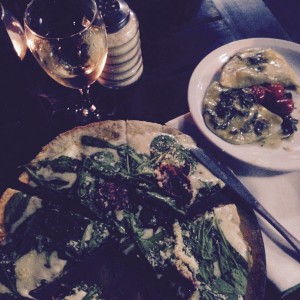 So, it feels more like a 'normal' restaurant, sitting on the spacious terrace (a lot of space for the tables inside as well!), enjoying a good glass of wine and a delicious dish. But even though the variety of dishes is big, they are not serving anything really special. No fusion meals or influences from strange parts of the world. But still, if you want to go for the good 'ol Italian dish, go to Almacén Purista!
Adress: Juan Ramírez de Velazco 701
Open: Mo – Sa 09h – 00h | Su 09h – 20h
Web: www.almacenpurista.com/
Phone: +5411 4779 2210
Price: $$