The kitchen of this multi-purpose cultural centre and no-nonsense place, offers 100% Vegetarian food for lunch & dinner: Salads, Koftas, Paninis, Hamburgers with lentils or aduki beans- burritos with different fillings and pizza's, of which two vegan options.
We ate the Kofta's and a Burrito with mushrooms which were both good (although the kofta's were a bit cold). I was, however a great fan of the huge vegan starting & sharing platter with lots of olives, pickles, toasted breadslices and two tasty dips of carrot and spinach.
The service is very friendly and there is a super relaxed atmosphere. In summer the seats outside are busy with people eating and enjoying grand sized cocktails. We had a wonderful evening, leaving the place only at 3.30 am….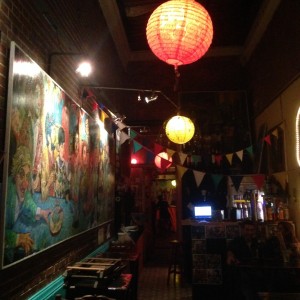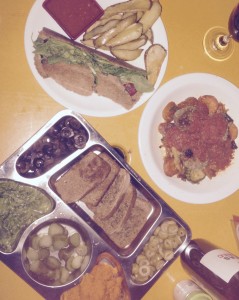 Adress: Av. Lacroze 3578
Open: Mo – Fr 17h – 23h | Sa – Su 13h – 19h
Web: www.espaciodespierta.net
Phone: 2050 8690
Price: $$